One of the most valuable gifts a person can offer is that of time. Volunteers are critical partners in helping us fulfill our promise of "Doing the Most Good." With your help, we are able to stretch our donor dollar for maximum impact and build a stronger community.
The Salvation Army offers volunteer opportunities for individuals of all ages; corporate and group projects that are wonderful team-building activities, and year round opportunities. We also encourage donation drives for food, clothing and other items to support our programs.
If you do not see a project that fits your needs on our volunteer website or if you have questions, contact our Volunteer Coordinator at (719) 636-5266 or email: alma.scott@usw.salvationarmy.org.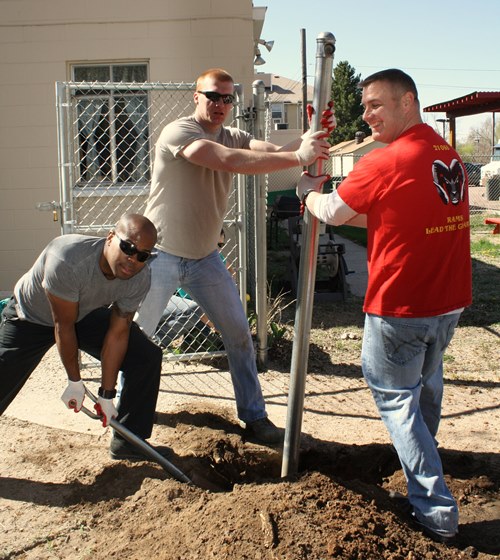 Soup Run
The Salvation Army provides a meal to as many as 150 people each night in Colorado Springs' Dorchester Park. Monday through Friday from about 5:00pm to 7:15pm, The Salvation Army mobile kitchen, "Canteen," is loaded for volunteers to deliver the meals to hungry citizens in our community. This is a great volunteer opportunity for individuals and groups. We are always in need of volunteers to drive The Savation Army mobile kithcen. Contact us if you would like to be certified to drive our Canteen at (719) 636-3891.
Emergency Disaster Services (EDS)
Many of our Soup Run Volunteers are also certified Salvation Army Emergency Disaster Services (EDS) volunteers.
The Salvation Army looked to its Emergency Disaster Services teams to help provide assistance for the Planned Parenthood Shooting, Black Forest and Waldo Canyon fires, and Manitou Springs flooding. Nationwide, The Salvation Army EDS serves over a million victims of disasters each year.
In order to represent The Salvation Army in an emergency, we encourage all EDS volunteers to become certified. Volunteers are needed at disaster sites for clerical, support staff, survivor registration, counseling, chaplaincy, health and hygiene, warehouse and supply distribution, transportation, meals, clean-up, recovery and much more. Please contact us for the next Emergency Disaster Services training opportunity.
Senior Center Activities
The Salvation Army provides a place for seniors and any other individuals to receive a nutritional meal five days a week for only $2. Children 6 years of age or younger are free of charge, as well as any other qualifying persons.
The Senior Center currently offers free Bingo three times a week (Monday, Wednesday and Friday) with lunch.
The Salvation Army welcomes volunteers who would like to provide activities for our senior citizen population. Volunteers can help sponsor a craft, activity or other service during the lunch hours. We are also seeking volunteers willing to donate decorations and/or decorate the Senior Center each month for a fun themed luncheon.
Food Services
The Salvation Army's kitchen, The Colorado Kitchen, serves over 75,000 low-cost or free meals annually. Five days a week, up to 350 meals feed the homeless, seniors, children and many others in the community. The kitchen also provides nearly 3,000 Community Holiday Dinners each year.
Volunteers are needed for food preparation and serving each weekday.
Social Services Food Pantry
The Salvation Army's Social and Family Services provides assistance to people experiencing hardship. Our Social Services is an emergency service program that assists approximately 200 families each month with emergency food, clothing, utilities and other support. Family Services also provides Christmas assistance to nearly 2,000 children and adults each year.
Volunteers are welcome to help sort and stock The Salvation Army Food Pantry and other emergency items. We also encourage groups or volunteers to coordinate a food or clothing item drive.
Youth Services
There is an ongoing need for volunteers to assist with our licensed Red Shield Af
ter School program and other character building youth programs. Volunteer opportunities throughout the school year include: tutoring, teaching, special projects and activities. After school hours and Wednesday evenings until 7:00pm. The Salvation Army Red Shield After School Program provides purpose and preparation for at risk youth in our community.
During the summer, The Salvation Army encourages volunteers to engage in the numerous opportunities offered through our Summer Day Camp program.
The Salvation Army Shelter & Services at RJ Montgomery
The Salvation Army Shelter & Services at RJ Montgomery is a 24 hour homeless shelter for men, women and families. We regularly need volunteers to maintain this valuable shelter for the community.
We welcome a volunteer receptionist with a passion to serve the homeless community. We also need groups throughout the year to provide weekend meals for the shelter and those looking for service projects and/or food and other essential item drives.
.