News & Events
The Salvation Army serves more than 30 million Americans annually with 3.5 million volunteers. The Salvation Army has a presence in 126 countries worldwide and is the only charitable organization that offers services in every zip code.
We encourage you to read about the great work The Salvation Army is doing in our community, in our country, and in our world. Be a part of the conversation—be a part of helping us "Do the Most Good."
Local Stories
Contact: Jeane Turner, The Salvation Army Community Relations and Special Events Manager Date: 11/27/2015
FOR IMMEDIATE RELEASE— The Salvation Army Responds to Colorado Springs Planned Parenthood Shooting
The Salvation Army Providing Support to Evacuees and First Responders Through the Night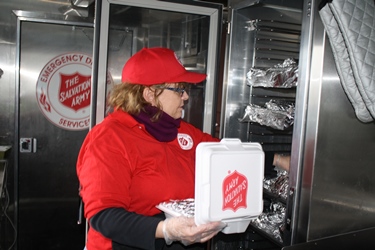 COLORADO SPRINGS, CO — The El Paso County Salvation Army Mobile Kitchen was deployed this afternoon to support the shooting incident in Colorado Springs. The kitchen was deployed at 3:00 pm at the request the local Office of Emergency Management. Salvation Army personnel have been feeding and supporting emergency responders and evacuated civilians.
The mobile kitchen is providing food for the responders who have been on patrol since late morning, and a place for them to warm up. The Command and Control Center has asked The Salvation Army to continue providing services through morning. Salvation Army staff and volunteers will work through the night to continue to provide relief from the 12 degree temperatures. As morning nears, The Salvation Army will be offering breakfast burritos.
"We are praying for the families of the victims of this tragic event," said Major Richard Larson, The
Salvation Army El Paso County Coordinator. "We will remain here until the emergency responders finish their work."
As of 8:30pm, The Salvation Army provided coffee, hot chocolate, water, juice, snacks and hundreds of sandwiches to evacuees detained at the VA hospital and to emergency responders on scene. The Salvation Army welcomes all media and community leaders and on-scene support personnel to utilize the mobile kitchen. For more information contract Jeane Turner.
National Stories
Tab content
Expect Change Blog
Tab content
International Stories
tab content